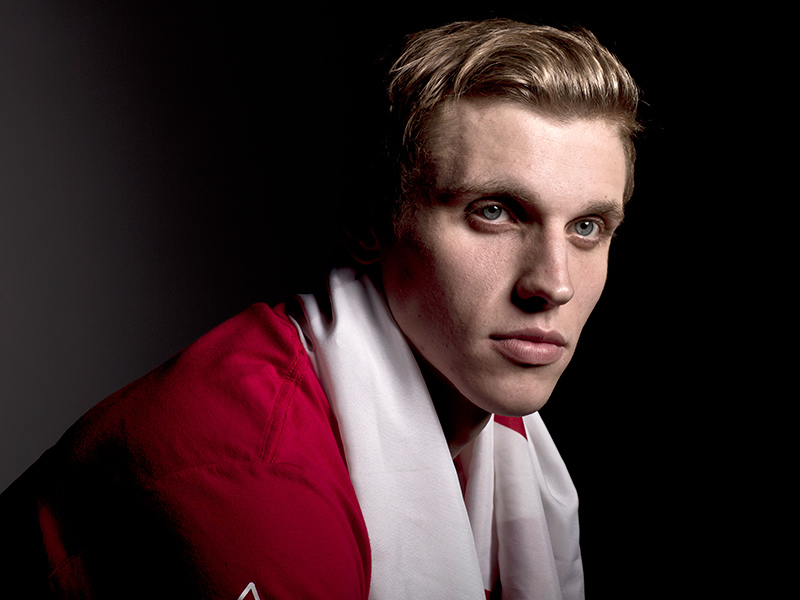 Santo Condorelli
Lucas Oleniuk/Toronto Star via Getty
By Tiare Dunlap
08/08/2016 AT 11:50 AM EDT
If you happen to see Canadian swimmer Santo Condorelli giving someone the middle finger from the starting blocks at the
, don't be alarmed – it's directed at his dad.
The 21-year-old has been flipping his dad the bird before important races since he was 8 – and it's not because of some deep-seated familial issues. Condorelli's father, Joseph Condorelli, came up with the idea after watching his young son get frustrated by losing to older, more experienced swimmers.
"[My dad said] 'You've got to build your confidence yourself and say eff everybody else that you're racing," Condorelli explained to
. "He said 'Every time you're behind the blocks, give me the finger and I'll give it back to you.' "
The strategy has paid off. Condorelli will represent Canada in the freestyle relay as well as the 100- and 50-meter freestyle
.
That said, the quirk hasn't gone unnoticed – or unpunished.
Condorelli recalled one time at junior nationals when his father was positioned directly behind the TV cameras. Of course, Condorelli wasn't about to break tradition for the sake of a national audience.
Ryan Lochte's Olympic Diet
"I was looking at my father and I gave him the finger … directing it right at the camera," he told the
Press
"I had to write an apology."
For more of PEOPLE's Olympic coverage, pick up our collector's edition, The Best of the Games
,
on sale now.
Since then, he's tried to make the gesture less noticeable by holding the offending finger up closer to his forehead. Despite others' complaints, he still views this ritual as completely normal.
"Athletes always have that one thing that gets them going that they need to do," he said. "That happens to be mine and still is. Seeing everybody's reaction to it has been interesting."
Go to Source
Author:
Powered by WPeMatico